It is dreadfully cold -- a temperature inversion as bad as Salt Lake City's bad inversions is drowning the Flathead Valley in dirty frost.
Sitemeter Sez: Visitors from Longview, Texas; Calgary, Alberta; San Leandro, California (clicked on Mamie Van Doren); Charleston, South Carolina; Madrid, Spain; Edmonton, Alberta; Bippus, Indiana; Fall River, Massachusetts; Rock Hill, South Carolina; Louth, Ireland; Lake Forest, Illinois; Oxford, UK; Toronto, Ontario, and University of Warmia and Mazury in Olsztyn, Poland (again).
Watch for revisions at:
Theater X-Net


Starring: Ida Rubinstein Belle Epoch Russian/Parisian beauty.
Ida's Places in Paris -- from my first jet-lagged day by the Seine.
Read more about Ida in Sisters of Salome by Toni Bentley

Visit:

Michael's Montana Web Archive
Theater, Art, Flash Gordon, Funky Music and MORE!
NEW --Launching NOW!
Outre Space Cinema
-- Featuring:
1930's Rocketry
,
Spitfires of the Spaceways
and
Cellulose to Celluloid
, Flash Gordon in the Saturday Matinees and Sunday Comics.
Many thanks to Jim Keefe (
Visit his Website
) -- the LAST Flash Gordon illustrator of the 20th Century, and Flash's FIRST illustrator of the 21st, for including my efforts on his
Flash Gordon

Resources Page
-- along with actual creators like Alex Raymond, Al Williamson, and others!
Charity Alert: Play the
FreeRice Game
-- improve your vocabulary, and donate food to the United Nations. Check into
Terra Sigilata
blog -- donate $$$ to cancer patients just by clicking onto the site. Keep that Resolution to click on
The Hunger Site
every day. BTW --
AIDtoCHILDREN.com
is a bit simpler than
FreeRice Game
.
In The Community: The
Hockaday Museum of Art
has two new shows --
Seldom Seen, from the Permanent Collection
, and
First Nations Artists -- Contemporary / Traditional
. We still have
Crown of the Continent
, and
Ace of Diamonds
. I also delivered the first version of my Bull Head Lodge video.
Media Watch:
Doctor Atomic
on the Metropolitan Opera today -- an opera in two LONG acts with labored music by John Adams and English uh, lyrics by the often-innovative Peter Sellars, who based the unpoetic text on original sources. I was working mostly, and might have tuned it out anyway, but it sounded like well-intentioned kitsch to my ears. Another opera this season,
Appomattox
, was better for mixing history and music together, but I didn't like it much either. I love modern classical music, except I have yet to hear a modern classical opera that compares with good Stockhausen, Varese, or even Cage, unless you call Phillip Glass' choral works operas, or try to tell me that
Les Miserables
is classical music.
Looking ahead, we're going to hear
I Love Crazy Lucy
again (AKA
Lucia di Lammermoor
), and four Wagner
Ring
operas (
Das Rheingold
,
Die Walküre
,
Siegfried
, and
Götterdämmerung
) We can all sing "kill the wabbit" and swear in German!
There may have been NINE Valkyries in timeless Valhalla, but there were only SIX Miss Rheingold finalists in 1953 -- notice Tippi Hedren, star of Hitchcock's pointless movie

The Birds

, and brilliant, if unpleasant,

Marnie

, which opened my eyes to the depth of Sean Connery's talent. Ms. Hedren is also Melanie Griffith's mom.


Let's add THREE Andrews Sisters, singing

Bei Mir Bist Du Schöne


We have NINE to match

Die Walküren

now!
A Bollywood Soap Opera Flick --
Om Jai Jagadish
, starring Anil Kapoor, Fardeen Khan, and Abhishek Bachchan as three brothers whose first names were the name of the film.
Amar Akbar Anthony
it wasn't, though! Urmila Matondkar co-starred as Jai's somewhat-petulant wife, and several more beautiful actresses as well, including Mama-ji, played by Waheeda Rehman, who was making Indian movies when I was a child. I can't fault the acting, but the plot generally stank. I will also mention that young Abhishek Bachchan danced very well in the production numbers.
Anil Kapoor plays a game show host in the award-winning
Slumdog Millionaire
, circling the globe right now -- a character who resembles Abhishek's father on certain levels.
Uh Oh -- Signs of the Times !?!
(Support this group when and where you can!)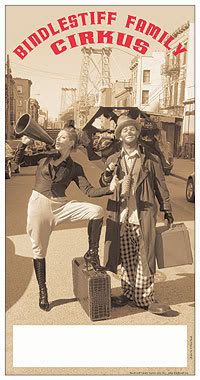 Bindlestiff Family Cirkus Winter Cabaret may be postponed


Yesterday's unexpected closing of the Zipper Factory Theater, the scheduled home of Bindlestiff Family Cirkus' 14th Annual Winter Cabaret Season, has placed this years season in a flux.
The Bindlestiff's season was to open this Sunday with an amazing international line-up. But the theatric tragedy may force New York to miss a month of Bindlestiff's unique mix of circus, sideshow, vaudeville, burlesque and cabaret. We are currently seeking an alternative venue. Stay tuned.

You can read more concerning the Zipper's closing at
http://www.playbill.com/news/article/125224.html



MadFest Juggling Extravaganza features Bindlestiffs

Madfest Juggling Convention, Madison, WI

The 47th Annual Madfest takes place on January (15), 16, 17, 18 and 19. The
Juggling Extravaganza stage show on Saturday January 17 at 7:00 PM in the Wisconsin Union Theater, featuries special guest The Bindlestiff Family Cirkus.

http://www.madjugglers.com/madfest/.



Bindlestiff Family Cirkus in New Brunswick, NJ

February 16,
Cross Roads Theater, 15 Livingston Ave, New Brunswick, NJ

Fun for the whole family. Show times are 10 am and 12 pm. Tickets are only $5. A Bindlestiff lead circus skill worksop is at 2:30 pm.
http://www.statetheatrenj.org



Juggling & Circus Arts Classes in Upstate NY.



Circus is a great art form which combines physical discipline and fitness with mental agility and creativity. Bindlestiff Family Cirkus co-founder Stephanie Monseu is offering circus skill workshops (for youth aged 8 and up) in two locations:
Rhinebeck Dance Centre in Red Hook, New York
Morris Memorial in Chatham, New York

Students will be introduced to three-object juggling with balls, scarves, rings, and clubs, and will learn solo and partner juggling patterns. They'll also explore manipulative miscellanea like diabolos, balancing feathers, plate spinning and poi; and work on stilts, rolla bolla, low tightwire, and rolling globe.

FREE INTRODUCTORY CLASS! SUNDAY JANUARY 25, 2009
at Rhinebeck Dance Centre. Ages 8-12 from 2pm to 3pm • Ages 13-up from 3pm to 4pm

For Registration Information, call: 518-828-7470 or email stephanie@bindlestiff.org
http://www.bindlestiff.org/menu/youtheducation-RDC.html

Bindlestiff Family Cirkus Webisodes On-line

We hope you are enjoying the intimate "on the road with the Bindlestiffs" experience.
Episodes 1-7 are available on-line:

http://www.thebindlestiffs.com