The weather's still too damn cold for this time of year, with bloody localized snow flurries. That small herd of Deer still haunts South Woodland Drive, and the Osprey are still trying to live on fingerling fish out of Dry Bridge Pond, and fighting each other a bit.
Sitemeter Sez: Oakland, California; Sherman, Texas; Columbia Falls, Montana; Amsterdam, Holland; Dublin, Ireland; Oakland, California; Baltimore, Maryland; San Marcos, California; Santiago, Chile; Washington, District of Columbia; Columbus, Ohio, and Alameda, California.
MUCH more history at:
Theater X-Net


Starring: Ida Rubinstein Belle Epoch Russian/Parisian beauty.
Ida's Places in Paris -- from my first jet-lagged day by the Seine.
Read more about Ida in Sisters of Salome by Toni Bentley

Visit:

Michael's Montana Web Archive
Theater, Art, Flash Gordon, Funky Music and MORE!
MORE UPDATES!
Outre Space Cinema
-- Featuring:
1930's Rocketry
,
Spitfires of the Spaceways
and especially
Cellulose to Celluloid
, Even more Flash Gordon comparisons from the Saturday Matinees and Sunday Comics.
Many thanks to Jim Keefe (
Visit his Website
) -- the LAST Flash Gordon illustrator of the 20th Century, and Flash's FIRST illustrator of the 21st, for including my efforts on his
Flash Gordon

Resources Page
-- along with actual creators like Alex Raymond, Al Williamson, and others!
Charity Alert: Play the
FreeRice Game
-- improve your vocabulary, and donate food to the United Nations. Check into
Terra Sigilata
blog -- donate $$$ to cancer patients just by clicking onto the site. Keep that Resolution to click on
The Hunger Site
every day. BTW --
AIDtoCHILDREN.com
is a bit simpler than
FreeRice Game
.
In The Community:
Montana On The Move
,
New Artists
, and The
Auction of Miniatures
are up NOW at the
Hockaday Museum of Art
, but we've put up a portrait exhibit in its place, including Larry Johnson's photos of local characters. Dan Fagre's show has come down for awhile, but will go up again in May -- it is about the vanishing glaciers of Glacier National Park, and is a true labor of love by Fagre and other scientists from the USGS. Here's
another website
comparing glacier photos from the early 20th Century and recent decades.
Media Watch:
Trash A Go Go
'Chuck'ed Julianne Hough and her singer-boyfriend. He really wasn't very good, but I think Jewel's old man is worse. Unfortunate Melissa may be too injured to continue, but she and Tony Dovolani are going to give it another try. There's a tall guy in the pro competition who looks remarkable when he dances, otherwise he looks remarkably like a man from Mars. Speaking of which, Mr. Thicke, the guest singer on the results show, was total Kitsch. I kinda liked the busy Beethoven 5th Symphony goof-around, but the fake soul song was gawd-awful. (I wonder if he's related to 'bleh' Canadian comic actor Alan Thicke?) It was good to see Edyta dancing with a real dancer, though.
I like seeing/hearing President Barack Obama's press conferences -- nice to know a smart guy is trying to deal with the reality of the world, but I still wish he'd named his puppy 'Bark' Obama.
Where was I? Oh Yeah!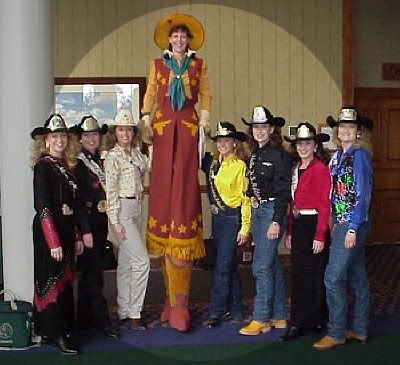 My friend Karen Quest plays a stilt-walking cowgirl named Lucky Starr, who stands head, shoulders, and more above all the the others! I videotaped her on the grounds of the Puyallup Spring Fair near Seattle, Washington last week.
(Photo from www.cowgirltricks.com)