When the lake ice shifts, it makes a deep noise that is getting more frequent as the average temperature rises. Rain puddles on top of the ice reflect the colors of the ever-changing skies in baffling ways. The Bald Eagles still haunt the edge of the pool for fish, as the Geese and Ducks paddle at a discrete distance. There haven't been any Deer tracks on the lake for awhile now.
Funky pictures coming SOON to:
Theater X-Net

Featuring: Ida Rubinstein Belle Epoch Russian/Parisian beauty.
Read more about Ida in Sisters of Salome by Toni Bentley

Visit:

Michael's Montana Web Archive
Theater, Art, Flash Gordon, Funky Music and MORE!
Charity Alert: Keep that resolution thru the Equinox too! Click on
The Hunger Site
every day.
In The Community: JEFFERSON'S WALL: AMERICA'S DEBATE OVER CHURCH AND STATE was a big hit on it's first night. Harry Fritz of the University of Montana-Missoula is a friendly and engaging speaker. He mostly had to dissemble
The Founding and Founders of America
, because most of what we think we know about the Revolution and the Constitution is folklore rather than factual history. I'm not sure he got the point across that established religions lasted into the early 1800's in some states. I think he gave the audience a sense of how remarkable the leaders of our Revolution were, and how they saw a definite division of social purpose between institutions of government and religion in their relatively "unchurched" times. He quoted a lot of James Madison after nobody in the room would answer his challenge for one quote from the "Father of the Constitution" from the audience.
There were about 300 people there, and we're having another on MONDAY -- Dr. Daniel Dreisbach from American University in Washington D.C. is going to speak in depth about Thomas Jefferson -- if there is a keynote lecture, this one's it!
So far I am videotaping the lectures as well as running the sound. I got away with it last night, but I'll be operating a data projector and laptop in April, and I'll be looking for one of these Honor Students to help me then -- I can't be the Clone Ranger in three places at once.
Media Watch:
Overcommitment Blues
--
Mimes on Miming
Edited by Bari Rolfe; Panjamdrum Books 1979 -- I knew this lady from the International Mime Festival in 1974. I became aware of the book via an email from Dr. Lou Campbell. He and she initially organized the Festival and then it spun completely out of anybody's control. I believe she's passed away now. I got it through Interlibrary Loan and have just enough time to xerox the sonofagun. Gawd knows when I'll get the time to properly go through the thing!
I wanted to write a review of Repertory Dance Theatre's concert in Whitefish by now, but I bogged myself down in graphics and plans for Theatre X-Net. Here goes a fast one!
Linda C. Smith, RDT's Artistic Director, acted as presenter and narrater for the evening from a podium at rear Stage Left:
Duets to Brazilian - Indian Music
-- Three duets to percussion and singing, plus a finish with four dancers. Chien-Ying Wang is a light, graceful lady with a long-torsoed body. She danced with middleweight-sized Thayer Jonutz. Big, blond Chara Huckins danced with big, blond Joshua Larson. Angela Banchero-Kelleher and Lynne Listing have contrasting, but equally graceful styles. Lynne is bigger, and a sense of play comes through her movements. Angela is small, sharp, and precise with an energy that often outshines the lights onstage. They did a lot of tight leaps, rotations, and turns in unison and offset timing. Nicholas Cendese joined Chien-Ying, Thayer, and Joshua in the final section.
The audience LOVED a piece set in a supposed church where the dancers each break decorum with a series of uncontrollable fits of character-driven movements -- Chien-Ying was in the lead-off spot, and got everyone laughing first. Angela, Joshua, and Nicholas followed with their own turns at-bat.
Angela did a tour-de-force solo from RDT's longer
Chairs
anthology -- lots of energetic arms and swinging legs on one body!
Speaking of chairs, the furniture came out in a group for Yvonne Rainer's
Chair/Pillow
dance from 1969 -- it was all tension and release, performed in a round-robin to one of the greatest records ever made:
River Deep/Mountain High
, as sung by Tina Turner, in the famous Gold Star Studios with Darlene Love, The Blossoms, Hal Blaine, and Jack Nietzche. The mercurial Phil Spector's masterpiece, during which he reportedly gave Ike Turner $10,000 to stay the hell away from the recording studio.
One more piece by Yvonne Rainer literally brought tears to my eyes --
Trio A (1966, from The Mind is a Muscle)
started as a lecture-dem, continued as a 'silent' dance, with the dancers' bodies making all the music, and finished with accompaniment by one more of the best records I have ever heard in my entire life -- The Chambers Brothers version of
In The Midnight Hour
. The funky thundering rolling drums in the song act as counterpoint to the gentle rhythms of the dance. The sensual soulful delivery of Lester Chambers and his siblings balance out the cool intellectual demeanor of the dancers, but it all sinks in.
(Lester's daughter Alexis C. Martinez lived here a year ago, but she moved. I was sorry she couldn't have experienced THIS!)
After the intermission, the sad knowing wit of Dorothy Parker about the trainwreck of love was the soundtrack for an athletic duet between Chien-Ying and Thayer, as Lynne and Joshua spoke their lines sitting on a bench behind them, facing away from the audience.
Linda has always seemed to have a culinary flair in the way she presents a dance concert to me, and she served up the best thing last -- an intense percussion-driven epic dance called
Sky Light
by Laura Dean. It started as a series of spinning solos, then mutated into a group dance with more spins and combinations. It continued until your breath was almost gone from watching -- but then the group strode forward with varied looks of determination, humor, and wicked joy because the level of intensity was about to take a literal quantum leap. Each dancer rose and fell in synchronized turns and twists as the clattering drums pounded through a lingering climax that shook the soul of all in attendance.
The applause was heartfelt and happy -- this kind of Dance Theater was unfamiliar to most of the audience, but they were astounded, entertained, and transformed by their experience.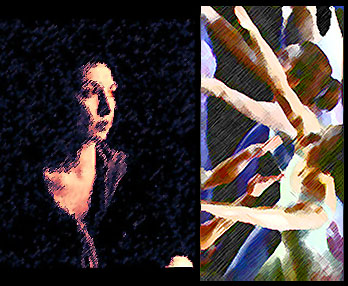 (Left) I have known Linda C. Smith since the late 60's
Her dance company continues to lift me into trancendental states of being.
(Right) The arms of Angela Banchero-Kelleher mingling with Chien-Ying Wang, and Lynne Listing in the tangle above.