Bald Eagles harassing the poor Ducks on Middle Foy's Lake. I thought they were scavengers more than hunters. A Raccoon sighted on the back deck -- as long as the Coyotes and Skunks stay away, I don't mind. The weather warmed up a little after last week's snowfall, and the roads are no longer icy. Most of the Autumn leaves have fallen -- including the golden needles off the Tamarack (Larch) trees.
Footbarn's Celebration of Theatre:
Theater X-Net

Starring: Ida Rubinstein Belle Epoch Russian/Parisian beauty.
Ida's Places in Paris, from my jet-lagged first day by the Seine.
Read more about Ida in Sisters of Salome by Toni Bentley
Click on Exceptionally Yours to find Footsbarn Theatre

Visit:

Michael's Montana Web Archive
Theater, Art, Flash Gordon, Funky Music and MORE!
NEW!
Spitfires of the Spaceways
Watch Dale Arden rescue Flash Gordon for a change!
Charity Alert: Keep that resolution as Winter sneaks up on us! Click on
The Hunger Site
every day.
In The Community: Updates at the Hockaday Museum of Art's website -- especially Upcoming Exhibits. I am personally excited about our big Summer show --
The Winold Reiss Art School
-- a heroic effort on behalf of the Great Northern Railway to cope with simultanious effects of the Great Depression and construction of the Going To The Sun Road. I will be researching between the Hill Museum in St. Paul, Minnesota, the Glenbow Museum in Calgary, Alberta, and many points elsewhere. Speaking of other Hockaday events, FVCC's Christmas party will NOT happen on
Art Walk
night this year -- YAY!
Media Watch: NFL Football -- Jillian Barbarie is a newlywed -- good for her! She's back on Fox's pregame show, but I don't have any comedy reports today. I guess I should say something about the sport -- it just may be the Indianapolis Colts' year. Tony Dungey is one of the NFL's best coaches, and Quarterback Peyton Manning is at height of his powers.
As far as a bigger game goes, some of the Mainsteam Media are trying to make their viewers believe they haven't been collaborators in the terrible mess the so-called GOP has made out of our national institutions. Tuesday's mid-term election will be an unusually important event.
Book TV
showed conversations with John Dean and Gore Vidal Saturday night, plus Bob Herbert and Barak Obama on Sunday. Ray Kurzweil, famous computer pioneer, held forth on
In Depth
. He has created some amazing applications over his career -- especially with sound. Stevie Wonder uses his inventions to both make music, and read books.
Actual books --
Voodoo Science; The Road from Foolishness to Fraud
by Robert Park was a good read -- there was no mere sputtering outrage in his stories of various Perpetual Motion scams, but he kept a measured tone which devastated the enablers of these various schemers -- members of Congress and news organizations, who should know better, but are too lazy to investigate. Dr. Park outlined the "Cold" Fusion impetuosities of Fleischman and Pons, the quantum double-talk of otherwise talented writer Depak Chopra, and calmly pointed out how Edward Teller stole billions of dollars by fronting for never-proven X-Ray Lasers and Reagan's "Star Wars" (SDI) boondoggle.
To be fair, I'll mention Park's reasoned objections to the International Space Station, and the Space Shuttle too. He is very correct about the scientific superiority of robotic space exploration, but the human factor is so appealing to our imaginations -- as the movie
Right Stuff
stated so well:
No bucks without Buck Rogers!
. The Gawd-awful waste of money attendant to our existing manned exploration programs is a serious problem by any standard, and I wish I had a solution that assuaged both the practical and romantic aspects of my nature.
Footsbarn In Action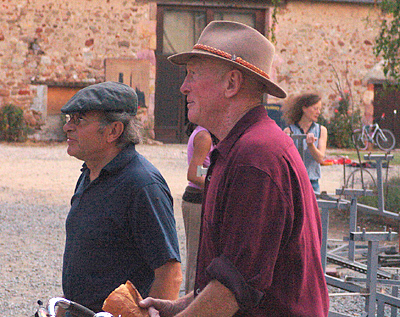 (L to R) Actors par excellence Davy Johnson and Joey Cunningham at La Chaussee, France. Dave and Margaret split from Footsbarn to form Ton und Kirschen in the mid-80's. Even though they are based in Potsdam, Germany, the two international companies remain very close in mission and spirit, plus raise each other's children.